Nohea is a full-service wedding florist with an amazing variety of services to choose from including but not limited to:
Aisle decor
Altar décor (including wedding arches)
Bouquet
Boutonniere
Cake Flowers
Chair flowers for wedding couple
Corsages
Flower girl petals and baskets
Flower petals
Hair Pieces
Haku Lei (Flower Crowns)
Maile Lei (for men)
On-site Set Up
Single flowers
Table arrangements
Wedding Leis
Welcome board decor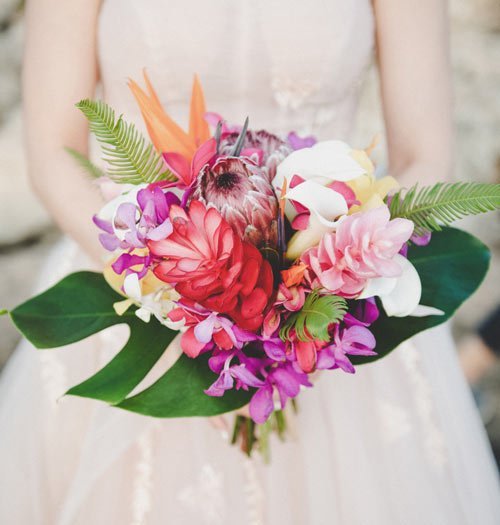 On which Island are you located?
We are located on the island of Oahu.
Can you service other islands?
Yes, but there are logistical and other concerns that you need to know prior to booking. For example, most deliveries to the state of Hawaii come through the port of Oahu, so Oahu is the most flexible destination. Deliveries are then sorted and sent to neighboring islands on weekly basis.
Is there a minimum order?
Absolutely not. We are a talented and creative group of floral artists who aim to work within your budget, so Nohea does not set minimum order sizes.
Is there an initial consultation fee?
Of course not. No cost, no obligation. We are here for you. With Nohea, there is no consultation fee, so reach out to us anytime and we can give you some beautiful ideas well within your budget. We can set up a time to meet via email, or we can schedule a video call if you are off island.
Must all consultations be done in-person?
If you are fortunate enough to live on our beautiful island, we would love to have you come in to our Oahu office and meet us in person. If you will be arranging your wedding from off-island, we can schedule a call with you (video or otherwise). Either way, Nohea is here to answer all your questions and get you started towards the most beautiful floral arrangement you could hope for.
What should we do prior to our first consultation? Is there anything we need to prepare?
Nohea's experienced floral artists can give you some wonderful suggestions with just a little information. There are a few important pieces of information that will help them provide expert advice from the very start: your budget, preferred type of flowers, theme colors, venue details (indoor, outdoor, etc.), seating arrangements (round, square, or rectangular tables, etc.), number of guests.

For example: If you choose to have a spring wedding but want flowers that are only available during winter months, our floral artists will be able to tell you that immediately and suggest similar alternatives available at the time of your wedding.
How does payment work?
Nohea accepts all major credit cards.
Under what circumstance can I cancel my order?
NOHEA CANCELLATION POLICY:
― Any cancellations up to 14 days prior to the scheduled day of the event, 100% full refund.
― Any cancellations between 13 and 8 days ahead of the scheduled event will incur a 30% cancellation fee.
― Any cancellations between 7 and 4 days ahead of the scheduled event will incur a 50% cancellation fee.
― Any cancellations between 3 days and the day of the scheduled event will incur a 100% cancellation fee.